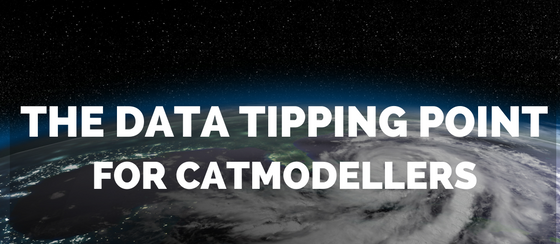 The Data Tipping Point for Cat Modellers
Oct. 5, 2016
Hurricane Matthew achieved Category 5 intensity on September 30th, 2016. It occurred at the lowest latitude ever recorded for a storm of this intensity.
Its journey took it across the Western Atlantic, causing catastrophic loss of life and widespread destruction. The death toll is estimated to be a minimum of 598 to almost 1,400, across Haiti, Colombia, Dominican Republic, Saint Vincent and the Grenadines and the United States. Making it the deadliest hurricane since Hurricane Stan in 2005. Damages are estimated to be more than US$6.91 billion; it was the costliest Atlantic hurricane since Hurricane Sandy in 2012.
With already noticeable increases in the frequency and severity of extreme weather events, there is an urgent need to understand better, what the next extreme weather event is likely to be. Where it will occur, how severe will it be, and what are the potential risks to human life, real estate, agriculture, water supplies and other pieces of critical infrastructure.
For many years the insurance industry has been at the vanguard of catastrophe modelling, (CatModelling) to understand better and adapt to these events. To this end, ever more complex data, models and tools are being deployed to understand the increasingly challenging and volatile nature of a changing climate.
More, faster
In this newer, more volatile and fast changing world, catastrophe modellers need additional data to validate existing models. As well as validation, CatModellers are increasingly identifying gaps in their data. These deficiencies need to be filled, and quickly, but it can be a challenge to source, review and license this data in a reasonable time scale.
Simply put, CatModellers need access to more data and be able to process it and interpret results, upon which adaptation measures get defined.
Data growth
At the opposite end of the chain, funded investigation by academic institutions and research bodies is driving an exponential growth in climate-related data, models and tools to visualise impacts and create a broad range of scenarios.
The challenge for a data producer is their route to the CatModel consumer is often unclear. The data producer typically works within a particular domain, geology for example, which, although not a criticism results in data that has a limited scope and market, a characteristic of domains. Increasing emphasis is placed on making the data more accessible to a wider, and less technical audience, and despite some growth in the development of tools for use by non-specialists, the results are still quite limited. Further limitations occur with the data provider who lacks a commercial mindset, and the often associated vision to scale the operation.
The tipping point
The Oasis HUB opens up the catastrophe modelling market access, for both the buyers and sellers of data, models, tools and services. 
As a buyer, you appreciate the challenges of sourcing, evaluating and acquiring data. The Oasis HUB reduces this risk and burden.
As a provider of CatModels, data and tools, the Oasis HUB can introduce you to a whole new audience, expanding existing, or creating new markets, and a commercial opportunity to publish your work.
blog comments powered by

Disqus