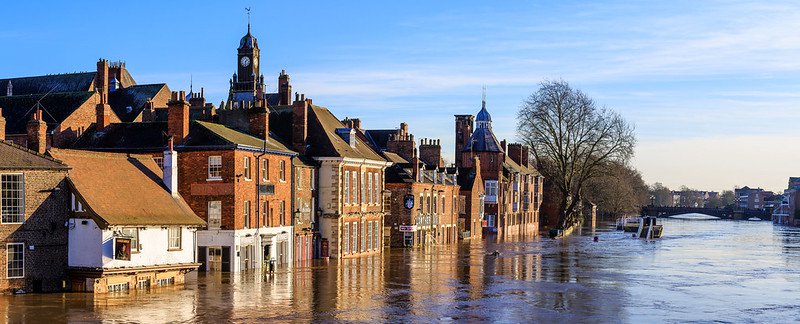 Flood risk assessment, forecasting and adaptation tools webinars. Helping you decide what works for your organisation.
Sept. 15, 2020
This autumn, join us for an exciting set of webinars about the new climate adaptation and risk assessment tools hosted on OasisHub.co, and how they can help you.
With increased occurrence and more frequent flooding, storms and extreme weather, your role as a city stakeholder, in a municipality, an urban planner, as part of the  local community, and in insurance, utility and property companies, involves taking informed decisions about your climate risk assessment and adaptation and resilience strategies.  
This includes analysis of current and future hazard and risk, climate change impacts and the quantification of the damage and financial losses of a flood in a specific place.
We understand that for many professionals being clear about what flood tool to use, linked to your specific objectives is often not an easy decision.
In the first three of a set of webinars this Autumn will help you to understand the types of tools you could consider. We'll demonstrate how you can do this through exploring a set of tools and talking to the scientists and flood specialists themselves about a set of state-of -the-art specialist flood tools, showing the diversity of the tools available to you, and helping you decide which types of tool work better for the challenges you need to address.
These three webinars in September and October will cover flood risk and predictive models, flood forecasting, damage and loss assessment and climate change adaptation for urban areas. 
---


SaferPlaces - A climate service mapping flood hazard and risk assessment in urban areas
Our first webinar will present a unique new tool to help you with damage assessment and the potential for adaptation planning. 
The SaferPlaces platform (developed within an EIT Climate-KIC funded research project) can help you assess flood hazards and risk including: pluvial (rain-related), fluvial (river) and coastal flooding in urban environments under current and future climates. The tool has also been designed with the possibility of testing climate adaptation measures against potential floods and importantly allows for the calculation of potential financial damages. 
Join Stefano Bagli, CEO of Gecosistema at 14:00 (GMT+01), Monday 21 September to learn about SaferPlaces - a climate service mapping flood hazard and risk assessment in urban areas as a means to build safer and resilient communities. 
---


Ambiental Risk Analytics - Supporting better decision-making around flood risk management.
With the addition of digital services provided by flood specialists Ambiental Risk Analytics, OasisHub.co data portal is now further equipped to support users in addressing global flooding challenges and understanding how climate change is predicted to increase flood risk.
The second Oasis Hub autumn webinar will see David Martin, Chief Technical Officer at Ambiental Risk will demonstrate FloodFutures®, a flood map presenting a nationwide view of how predicted climate scenarios will modify flooding regimes. The tool presents to the user a view of present-day flood hazard alongside three climate change scenarios which describe the range of possible outcomes up until the 2080s.
Katie Smith, Technical Manager at Ambiental Risk will provide an overview of FloodScore, the most complete and up-to-date flood risk data available for any property in the UK. It quantifies the likelihood of an individual property being flooded due to rainfall, overflowing rivers or tidal surges, helping you to assess risk at that location.
FloodCat™, a property-level precision flood catastrophe model will also be presented. Built for the reinsurance industry and available ready for use in the Oasis Loss Modelling Framework it incorporates data from FloodMap and FloodScore to provide a consistent view of risk across datasets.
Join us at 14:00 (GMT+01) on Monday 5 October to learn about FloodFutures, FloodScore and FloodCat.
---


Previsico - Helping insurers, businesses and governments mitigate flood impacts
In the third Oasis Hub autumn webinar, Dr Avi Baruch, COO at Previsico will present their flood forecasting technology, demonstrating how the tool has helped insurers and the government mitigate flood impacts this summer. He will also reflect on Previsico's work transforming flood underwriting and claims processes.
A global provider of real-time, street level flood prediction and analytical solutions, the tool builds round-the-clock resilience, continuously modelling inundation using the latest combinations of rainfall predictions.
We invite those working in the insurance industry, businesses and in municipalities seeking property-level flood warnings, to learn more about Previsico's flood forecasting technology.
Join us at 14:00 (GMT+01) on Monday 19 October.
---
These are only some of the tools that you can find on OasisHub.co. We host a wide variety of other high quality flood data and tools that we would like to talk about with you. Want to discuss your options? Email us at hello@OasisHub.co and we will help find the right data and tools for your specific needs.

Sign up to our newsletter for email updates about the rest of our October webinars as they go live, and about all the new tools and data coming onto Oasis Hub. We are here to help!
blog comments powered by

Disqus